At Safe-Direct Car Shipping, we know that whether you are shipping your car across country or to another state, you want to ensure that your vehicle is in good hands. No matter what obstacles are in the way: Rain, snow, cold or hot, you want you guaranteed car transport.
When you say "ship my car" we know that you are actually saying, "I need a dependable and reliable auto shipping company to get my vehicle to its designated location on time and without any damage." We make it happen every day.
We know that there are many options and companies available to help you ship your car.   We know that you wont be disappointed with our services. Contact us by phone, or chat with us online and we'll answer all your car shipping questions.
Here are some great questions that we get asked on a regular basis:
Who or what are auto carriers and shippers?
Which car carrier is the most reliable?
Will my vehicle be safe?
What happens if my vehicle is damaged, is my vehicle insured?
How much notice do I need to give when scheduling?
Can I ship item inside my car?
Are shipping dates guaranteed?
Is vehicle pickup and deliver door to door?
What is a Bill of Lading?
If you have any of these questions or others, please do not hesitate to contact us.  Even if you do not end up using our services, we are happy to answer any questions and explain the car shipping process.
We have an A rating with the Better Business Bureau, and have earned the reputation as one of the best car shipping companies in the US.  We have a dedicated customer service team that are experts in this field and have helped thousands achieve a successful shipment.  They are dedicated to giving you the information you need, so you can make informed decisions.
We have access to more than 2500 dependable auto transporters. These companies have been already pre-screened and rated.  Give us a call or request a FREE quote online!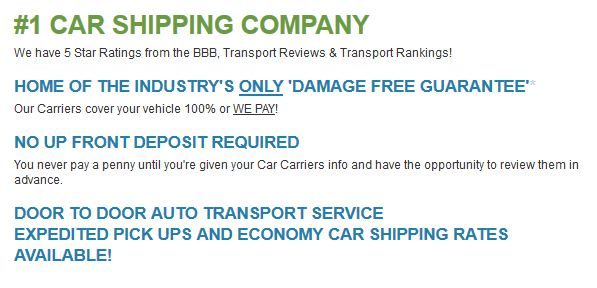 Frequently Asked Questions
Honest Answers to Your Car Shipping Questions
We're Loved by Customers
See Reviews by Our Verified Buyers!