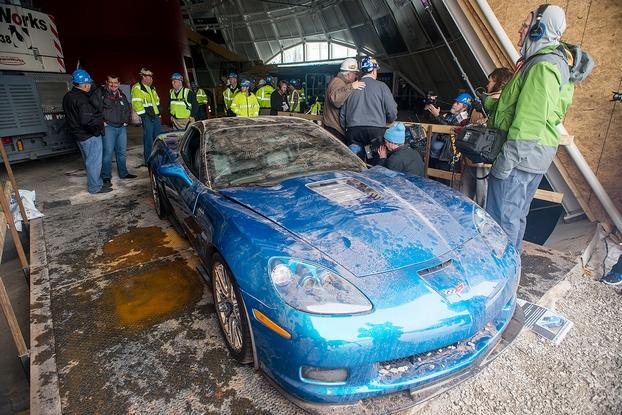 Back in February of this year, a giant sinkhole opened up beneath the National Corvette Museum in Kentucky, and consumed eight prized corvettes.  Shortly after, GM announced that they would cover the cost of restoring those vehicles if possible. "Our ultimate goal is to help the museum in any we can because they are a charitable nonprofit organization that is not owned by Chevrolet or GM," said GM spokesman Monte Doran.
On April 9th, the museum removed the last Corvette, (a 2001 Mallett Hammer Z06), which the most heavily damaged of all eight.
Today, June, 25th 2014, the museum's board of directors are scheduled to meet to review the proposals and options on both the building and the 8 damaged vehicles.
Wendell Strode, the executive director of the museum said in a statement that the current plans are to keep the cars on display as they are so that guests can have a chance to see the cars and witness the sinkhole for the summer, and delay construction until after their 20th Anniversary Celebration August 27-30.
Although not yet official, they may leave some of the cars, and a portion of the sinkhole unrepaired, as part of a permanent display.
There has been so much interest and increased attendance due to the sinkhole, that they made arrangements to allow people to view the recovery efforts.
Katie Frassinelli, Marketing and Communications Manager at the Museum stated, "We started with a Plexiglas viewing window so guests could see the construction going on inside the Skydome, and eventually the recovery of the Corvettes.  We always had one web cam available inside the Skydome, and due to the growing interest and popularity we added two more so our online visitors could get additional angles to view what was going on."
Check out the live video feed here
Michael starting working in car shipping over 20 years ago, in 2002; back in the days when fax machines ruled the roost, being the first name listed in the yellow pages was King and google wasn't yet a verb. Sometimes he foolishly thinks he's seen every situation imaginable when it comes to shipping a car, but about once a year he's proven wrong.
Frequently Asked Questions
Honest Answers to Your Car Shipping Questions
We're Loved by Customers
See Reviews by Our Verified Buyers!