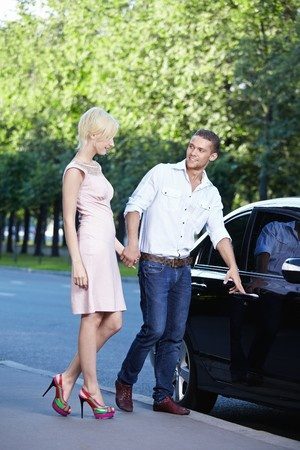 Question:   Does door to door car shipping really mean that the truck driver will pick up from my home address?
Answer:  Yes, we always ask for your specific pickup and delivery addresses.  If the carrier can get right to the addresses you provide, in a legal and safe manner, they will.
Question:  What would prohibit door to door service?
Answer: If the area you live in has restrictions regarding large trucks, or if there simply isn't enough room to safely turn around or maneuver.  (keep in mind these are huge multi car carrier trucks).
Question: What happens if they can't safely pick up or deliver to my home address?
Answer:  You simply make arrangements with the driver to meet at a nearby location where the carrier can safely get in and out.  This might be at a local grocery store, or school parking lot.  Or, talk to one of our representatives about special arrangements.  In some cases a smaller transport vehicle or tow truck and take your vehicle from the truck, directly to your door.
Question:  I live in the Los Angeles area, is door to door car shipping to L.A. possible?
Answer: Again, this depends on the specific location, however Los Angeles is one of our most active car shipping routes, so your driver can provide a list of common areas which are safe for car delivery or pickup.
Question:  Do I need to be there personally for delivery?
Answer:  No, the carrier will contact whomever you tell us to contact, whether it is you, a friend, family member, or even a dealer.  Someone simply needs to be present on both ends to sign the Bill of Lading.
If you have any more questions regarding door to door auto transport, please give us a call at 866-221-1664.
Frequently Asked Questions
Honest Answers to Your Car Shipping Questions
We're Loved by Customers
See Reviews by Our Verified Buyers!