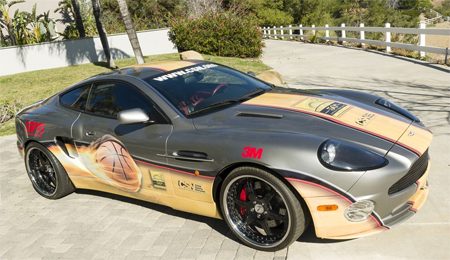 In 2009, the Basketball Hall of Fame celebrating it's 50th anniversary by inducting legends such as Michael Jordan, David Robinson, and John Stockton. It was an amazing ceremony with dozens of the best basketball players in the world in attendance.  Over 50 of them signed a 2002 Aston Martin as the walked the red carpet.
Owner Geoff Abadee bought the car for $200K, but with the 50 famous signatures, it has now been valued at 1.25 million.
Signatures include:  Michael Jordan, Walt Bellamy, David Robinson, Dave Cowens, George Gervin, Marques Haynes, Bob Wanzer, Bob Houbregs, Jerry Sloan, Sam Jones, Rick Barry, Bob Kurland, Bob Lanier, Moses Malone, Bailey Howell, Calvin Murphy, Nancy Lieberman, Harry Gallatin, Ann Meyers, Charles Barkley, John Stockton, David Thompson, Dolph Schayes, and John Havlicek and more.
This now one of a kind car, and famous piece of basketball history is up for auction at here.
Frequently Asked Questions
Honest Answers to Your Car Shipping Questions
We're Loved by Customers
See Reviews by Our Verified Buyers!