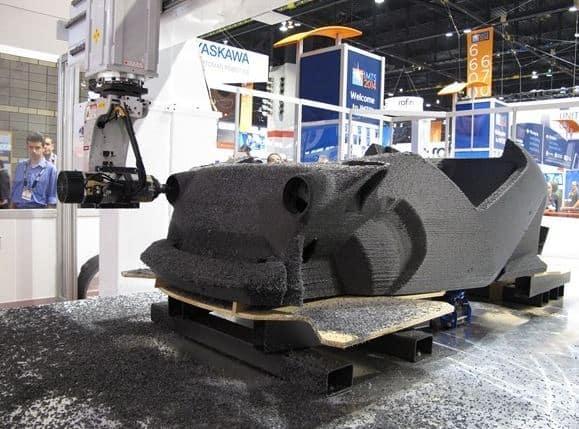 During the IMTS show in Chicago last week, the first ever 3D car was printed, assembled, and driven.  Using manufacturing techniques that will most likely revolutionize the auto industry, the "Strati" was printed on a large scale additive printer using a carbon fiber reinforced polymer.  The wheels were also 3d printed using a different direct metal process.  The Strati took 44 hours to print, 1 day to mill and 2 days to assemble, making a 5 day build process in total.
This 40 mph capable electric car consists of only 40 parts. Compare that to the 20,000+ parts needed to create a regular car, and you can see why this technique could turn the auto industry upside down.
Many different companies came together for the actual manufacturing of 3D printed car including:  Cincinnati Incorporated, Local Motors, Oak Ridge National Laboratory, and AMT (The Association For Manufacturing Technology).  Other companies such as SABIC Innovative Plastics, Renault, Siemens, and Fifteen52 provided the necessary materials and software.
See more pics and video of the 3D printed car here.
Frequently Asked Questions
Honest Answers to Your Car Shipping Questions
We're Loved by Customers
See Reviews by Our Verified Buyers!